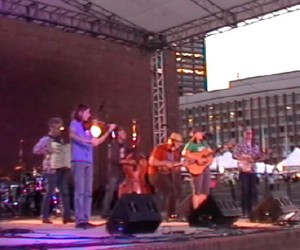 Creek River delivers an energetic and eclectic mix of bluegrass, country, folk, old-time, Tex-Mex, Celtic, blues and rock. Or as we like to say, fresh-baked roots music.
We're a five-piece acoustic band featuring guitar, fiddle, banjo, accordion, and bass with two voices balancing out the strings and bellows.
We play whatever songs make us tap our feet and highlight the individual talents and interests of the band members. In any given set, you'll likely hear originals, bluegrass standards, country waltzes, smokin' fiddle tunes, driving rock songs, a few spicy Tex-Mex numbers, some funky blues, and a folksy ballad or two.
We tinker with songs like a mechanic lovingly tinkers with an old truck and experiment like a chef trying to perfect his favorite recipe with a little extra cardamom. We'd love your opinion. How does she run? How does it taste?
"The Creek River String Band electrified the audience with original and popular acoustic sounds." – Doug Ruffin, Boston Music Coalition
We play music festivals, bars, restaurants, clubs, cafes, coffeehouses, colleges, weddings, hayfields, private functions, and just about anywhere else. Repertoire and band size can be customized to suit your venue and musical tastes. For more information contact us. We'd be happy to answer your inquiry.
"Creek River String Band's music is danceable and full of chops. Their influences are diverse, and the songs range from gritty, to tender, to traditional, to just plain funny. Even people who 'don't dance' were dancing. They can rile up and mingle with any crowd." – Cathy Nicoli, Assistant Professor of Dance and Performance, Roger Williams University
"We were so thrilled to have Creek River play at our wedding. It couldn't have been a better fit for us and our guests. Our wedding turned into a pretty big affair with over 200 people out on a farm, but the band rose to the occasion. We heard how much fun the band was over and over in the weeks following the wedding from our friends and family." – Dave Boettcher
Members:
Jeremy Majewski (Banjo)
Kim Patch (Fiddle)
Stroker Rogovin (Accordion, Vocals)
Eric Smalley (Bass)
Doug Turnbull (Guitar, Mandolin, Vocals)
Places we've played:
The Burren – Backroom, Atwood's Tavern, Square Root, The Lizard Lounge, The Cantab Lounge, Sally O'Brien's, Precinct, Bela Luna Cafe, The Midway Café, John Harvard's, Sandywoods, Thirty-One Main, Joe Val Bluegrass Festival, Boston Greenfest, Wake up the Earth, Saint-Gaudens National Historic Site, Titus Sparrow Park, Roger Williams University, the Brown University Folk Festival and Endicott College.